Administrative Cooperation Directive 6 (DAC6)
---
On 25 May 2018, the Council of the European Union formally adopted a directive amending Directive 2011/16/EU on the automatic and mandatory exchange of information on taxation concerning cross-border transactions that must be declared. This Directive has been referred to as 'Administrative Cooperation Directive 6' or 'DAC6'.
In a nutshell, the DAC6 obliges 'intermediaries' (i.e. taxpayers) to identify certain transactions with potentially aggressive tax planning. This obligation also concerns mechanisms to circumvent the CRS and non-transparent constructions intended to conceal the actual beneficiaries.
The concept of 'intermediary' is widely interpreted. Moreover, the Directive defines the envisaged operations with a series of 'features' which are considered as signs of possible tax evasion or unfair tax practices.
The information will be shared between the Member States by means of a centralised database.
Directive DAC6 enters into force 20 days after its publication in the Official Journal of the EU. The Member States must transpose them into their national law by 31 December 2019 at the latest. The cross-border transactions to be declared, the first step of which has already been carried out between the date of entry into force and the date of application (1 July 2020), will have to be declared by 31 August 2020 at the latest.
The objective of this training course is to:
interpret the DAC6 directive historically and contextually;
clarify the basic concepts of the DAC6 directive (intended cross-border transactions, intermediaries, characteristics, etc.), its general functioning and the concrete consequences for the financial sector;
anticipate actions to be performed in preparation for implementation.
Totale prijs *
Leden: € 300
Niet-leden: € 330
Partner BZB: € 300
Incompany: op maat, prijzen op aanvraag

*
Heeft u recht op subsidies?
* Prijs: prestatie in het kader van permanente beroepsopleiding, vrijgesteld van BTW
Punten
Geregelde bijscholing
Beschikbare data
29/03/2021 - Administrative Cooperation Directive 6 (DAC6)
Geef ons uw interesse door indien er geen datum beschikbaar is, de geplande datum voor u niet past en/of deze sessie volzet is. Van zodra een vijftal personen ingeschreven zijn op de interesselijst stellen wij u een nieuwe datum voor. Uw inschrijving op de interesselijst is kosteloos en zonder enige verplichting.
Doelgroep
The training course can be taken by various target groups that are active in such functions as the following:
compliance officer;
FATCA and CRS manager;
internal tax or legal officer;
person who provides clients with tax advice;
asset planner;
person responsible for relations;
back-office staff;
etc.
Vereiste voorkennis
Advanced: offers practice-based applications to complement the theoretical knowledge already acquired through the 'basic level' courses (in-depth learning).
Programma
Content
History of the DAC
DAC6: context and objectives
Basic concepts: cross-border transactions, intermediaries and characteristics
The operation of the exchange of information
Questions for the financial sector and applications
Time limits and actions to be taken
Practical information
Duration: A half day training
Time: 9AM-12.30PM (3 training hours)
Location: Febelfin Academy, Phoenix gebouw - Koning Albert II-laan 19 1210 Brussels
Additional information: This training course will be given in English
Methodologie
Form: Classroom
During our training courses, we offer a combination of theory and practical exercises. The cases, examples and exercises are taken from everyday situations or are contributed by you and then solved under the guidance of the trainer.
Training material:
Docenten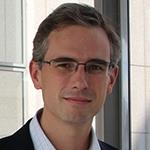 Stéphane Martin
Bookkeeping & reporting