Credit risk: loan by loan management
Understanding credit risk is key for any finance practitioner. It is a significant part of the business model and a financial institutions' portfolio.
This course is designed to give you the essential insights to be able to identify, quantify and manage credit risk effectively.
After an introduction of what credit risk is and how it fits in the risk taxonomy of a financial institution, some real-world cases will be discussed as illustration.
The assessment of credit risk is examined with a focus on more specialised topics such as credit ratings, credit analysis, internal and external credit risk models for both single counterparties and portfolios. The course looks also at the management and optimisation of credit risk.
No such analysis would be complete without making the link with the latest regulatory and innovative developments.
Totale prijs *
Leden: € 530
Niet-leden: € 640
Partner BZB: € 530
Incompany: op maat, prijzen op aanvraag

*
Heeft u recht op subsidies?
* Prijs: prestatie in het kader van permanente beroepsopleiding, vrijgesteld van BTW
Geef ons uw interesse door indien er geen datum beschikbaar is, de geplande datum voor u niet past en/of deze sessie volzet is. Van zodra een vijftal personen ingeschreven zijn op de interesselijst stellen wij u een nieuwe datum voor. Uw inschrijving op de interesselijst is kosteloos en zonder enige verplichting.
Doelgroep
This training is intended for various target groups active in business, credit risk, ALM, finance and capital markets
Vereiste voorkennis
Expert level: Subjects will be treated thouroughly. You should have knowledge of macro-economical concepts.
Programma
1. Credit Risk – Definition & main types
Default, spread, counterparty, settlement
Retail (mortgage, credit card, consumer), SME and wholesale exposure
Importance of credit risk in the financial world
2. Credit Default Risk – Assessment
Internal & external credit risk analysis (bank level + rating agencies)
Internal & external credit rating models
3. Managing Credit Risk – Credit Risk Mitigation
Reducing exposure and increasing recoveries: Netting, Collateral, Guarantee, Covenants
Risk transfer to external investors: Credit Derivatives, Securitization, Loans Sales
4. Credit Risk in the Basel Accord:
Credit risk parameters
Standardised, IRB Foundation and Advanced
RWA Calculation (high level)
Differences between accounting (IFRS9) and regulatory approaches
Main changes expected in the upcoming Basel 4 review

It would be interesting to add here one point on Impairements accounting of loans
- Principles of IFRS 9 expected credit losses
- Differences between the accounting and the regulatory approaches
5. Credit Process for loan-by-loan management (end-to-end):
Origination, analysis, pricing, loan approval
Risk (surveillance,) monitoring, work out (recovery)
Tools to support the process
6. Data governance and data quality
7. Recent developments: business cases of Fintech, AI and Machine Learning

8. Appendices
Definition of default
Example of credit scoring mode
PD model development (different steps and validation)
RWA calculation
Methodologie
Duration: 1 day training
Hours: 9am - 5pm ( 6 training hours)
Address: Febelfin Academy, Aarlenstraat/Rue d'Arlon 80, 1040 Brussels
Docenten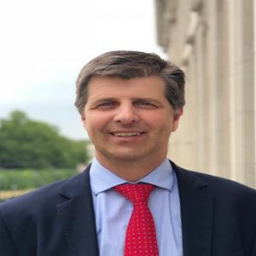 Ruben Olieslagers
Risk, finance & treasury